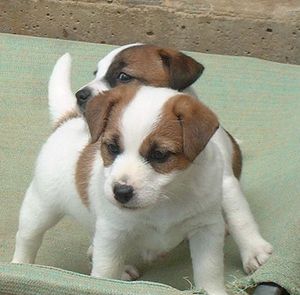 AUCH Casmara/JR Commander
I take pride in rearing litters to the best of my ability,
supplying puppies with both top quality food,
the best of care and Veterinary treatment and of course
a whole lot of love during the
first weeks of life.




VACCINATION:





First vacc:

given at 6 weeks of age, C3 parvo,hepatitis,distemper.)


Second vacc:

at 10 weeks. (C5 parvo, hepatitis, distemper, kennel cough.)


Third vacc:

at 14 weeks. (Booster C5) Then follows annual boosters.




MICRO-CHIPPING:



Puppies are all m/chipped for positive identification.




WORMING:



Wormed at 2, 4, 6 & 8 weeks with Drontal Syrup.
At 10 & 12 weeks a quarter of a drontal tablet can be given –
or whatever your vet advises according to puppy's weight.
Thereafter, worming treatment should be given at
6 months, 9 months and twelve months.




CALCIUM:



When puppy is no longer with Mum, calcium supplements should be given.
Try 'Sandoz' or 'Troy', according to the directions on the product.




FEEDING:



My puppies enjoy:-
Pal puppy porridge
Advance Puppy plus rehydrateable
(or a good quality dry food e.g. Science diet etc.)
Minced steak (beef or kangaroo)
Minced chicken
Raw brisket bones
Raw chicken necks, legs, frames (under supervision!)
Di-vetelact formula from vet or pet shop
A little 'my dog' mixed with dry food
Cheese
Bonio.
Unsweetened  yoghurt


When taken home to a new family, puppies tend to eat little.
But will soon settle in the new environment.

Adults should make sure that children allow puppy his own space for his sleeps,
He/she is STILL A BABY!

Very small children should not be left with a new baby puppy unsupervised!
It is up to us as adults to take responsibility and teach children proper animal care.

My breeding stock are DNA profiled and receive Ophthalmic Examinations.
I always welcome questions or advice re any concerns from my puppy buyers.

Puppy kindy followed by a Basic Obedience course works wonders
and makes for a happier puppy and owner!

JRTs are extremely intelligent and very trainable.
Fran Kinnear
Australia

casmarakinnear@netspace.net.au